MIDLIFE CRISIS NEUTRALIZER

OVERCOME MID LIFE CRISIS PROGRAM and other CRISISES.
WARNING: Do not begin listening to this next program in the evening. You won't go to sleep afterwards. Why? Because when you see how our early education and programming sets us up for Life Crisis, you'll have so many ah ha's and be so busy making notes that you'll be too excited for sleep.
Life Crisis Neutralizer CD Program - Part 1 & 2:  $29.95
Life Crisis Neutralizer E-book:   $14.95
Total Value: $44.90
| | |
| --- | --- |
| Digital Download Version | Physical CD Version |
Midlife Crisis Time? Newly revised and updated--better than ever! In fact I had to go through a personal crisis of my own to complete this program. 

Life crisis, mid life crisis and crisis's in general are the major contributing factors to alcoholism, drug addiction, and suppression of one's immune system leading to life threatening illnesses. 

This is the one program that will get you back on track from mid life crisis or any other crisis. You've worked hard all your life, been dedicated, honest, and now everything has changed. The reality sets in that life is passing you by and the last 5, 10, 20, 30 or more years is lost. Lost to the wrong relationship, wrong job, career, and so on. Or you lost a skill, or your good looks, or have been crippled from an accident, or diagnosed with a life threatening illness. You feel life is totally unfair and has passed you by and the opportunities you've squandered or missed are gone.

Normally what happens is that when faced with this tremendous loss, it may take years to adjust if ever at all. Everyday is an unwelcome reminder of the loss of yesterday and ends in the same bleak feeling the day before. Uselessness or high levels of anxiety to make things right, but no solid direction to channel that anxiety.
Most of us were taught to get our self worth from the things we do in life. It's normal to become passionate about and identify with the things in life that we love. Little wonder when for some reason we can no longer do can do those things, or when we wake up and question our relationships, the time table we set for ourselves, and suddenly find ourselves lost. This program is about taking the lost "you" and finding the new "you."
The brain is incredibly powerful and because you've learned to identify yourself with what you do in life, you set the jaws of the trap for midlife crisis or mid life crisis. As long your relationship with what you do--the hats that you wear--is ok or as long as you don't question the value of your hats, all is ok. But then when the hat gets knocked off or you wake up one day and question the value of the hat, it's mid life crisis or life crisis time.

Part I of the program:
1. Provides you the awareness of the identity trap--IDENTITISTM
2. Gives you the tools to re identify yourself.
3. Moves you beyond the unfairness of life.
4. Empowers you to live in the present and let go of guilt of the past and worry of the future.
5. Moves you beyond attachments defining your life.
A new leash on life!
Part II of the program, complete with subliminal suggestions, on a separate cd plants the suggestions into your subconscious mind to release you potential, find new pathways, and meaning once again in life.
Bonus: On cd #2 of the program is a special bonus track. If you're familiar with Wayne Dyer and his most recent push for each of us to connect with intention, then you'll love this track. Or if you've been wondering, pondering, confused about the meaning of it all--life--God--intention--essence, then this bonus track on this cd is a must. It's about how to really connect with intention and deal with the emotional states and physical states that corrode your conduit to intention--something no one else provides real sound direction in doing.
Please note: If you order both the Self Esteem and the Dealing With Rejection Series you may substitute any other program/s in this website for the duplicate Over Come Life Crisis program (up to two cds). Simply note the program/s you desire in the comments portion of your paypal order.
Life Crisis Neutralizer CD Program - Part 1 & 2:  $29.95
Life Crisis Neutralizer E-book:   $14.95
Total Value: $44.90
| | |
| --- | --- |
| Digital Download Version | Physical CD Version |
| | |
| --- | --- |
| | Money Back Guarantee! |
Page down for other works by the same author.
About the Author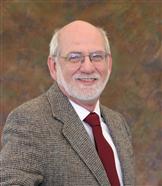 Richard Kuhns B.S.Ch.E. (a chemical engineer) is a certified hypnotist and a specialist in biofeedback, stress management, cognitive, and relaxation skills. He is proud to have a son who is about to graduate college. His engineering perspective has allowed him to "step outside the box" in his approach to empower others for success. He has successfully worked with thousands of individuals to achieve their goals of improved self esteem, shedding weight, managing stress, and becoming healthier.
As an accredited hypnotist, Richard is considered to be one of the most advanced and progressive self-help specialists. He brings a progressive approach to self-help by combining hypnosis with a cognitive shift (a shift in one's thinking perspective), nutrition, and stress management skills.
Richard operated the Biofeedback Center of NJ and Hypnosis Consultants for over twenty years. He is now in private practice and is creator and author of over fifty self empowering CD's or MP3 Downloads available at www.DStressDoc.com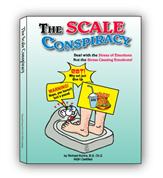 The Scale Conspiracy to End Emotional, Compulsive, and Binge Eating
In 1984, using himself as a test subject, a brilliant researcher in New Jersey solved the riddle of why dieting doesn't work while permanently dropping 40 pounds himself. He then proceeded to help thousands of others do the same. Over the years, his remarkable findings were lost in the noise of a gigantic weight-loss industry intent on making money from chronic dieters. Now, finally, this landmark solution to permanently losing weight is available again . . . . " Soft cover available on Amazon.com The following books are also available on kindle, the nook, and Amazon with complimentary CD's at http://www.DStressDoc.com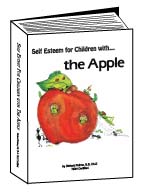 Self Esteem for Children with the Apple
"Tackles the Core of Where Children Get Their Self Esteem"
A colorfully illustrated touching story of a self conscious young boy who has an Apple given to him by his creator. The Apple is representative of his self esteem. The story is about his quest to deal with what he's learned from his parents and educators. Unfortunately, he then compares himself with his peers and becomes very self conscious. Fortunately, he meets a real friend that he admires. In an awkward moment he shares his worse fears about his Apple with his new friend and is surprised to find that rather than being made fun of, he gets some real advice on how to take care of his Apple. All purchasers of this title will, upon purchase, receive a free monthly Stress Management Tips Bulletin worth $300. Visit www.SelfEsteemCure.com to claim your free Bulletin.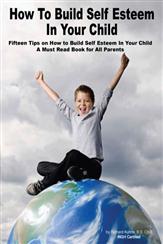 How to Build Self Esteem In Children
Fifteen Tips on How to Build Self Esteem In Your Child
"A must read for all parents."
If I could go back and give my mother some heartfelt tips, I'd give her fifteen valuable tips which are given in this book in easy to understand terms (no psychological jargon). And then I'd tell her how to empower me to build self esteem that would not be dependent on my success or lack thereof.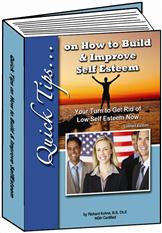 Quick Tips on How to Build and Improve Self Esteem
The first book of the Self Esteem Series.
Never before has there been a book that actually exposes the myth of self esteem. Yes, our society is a self esteem crisis promulgated by the way we were taught by well meaning parents and role models to build self esteem . We were taught to make something of ourselves to feel better about us—get a well paying job or career, graduate high school or a prestigious college, get married and have a fine looking family, buy a beautiful home, be charitable, have a lot of friends, and so on. While there is absolutely nothing wrong with any of these aspirations (the heart of the American dream), accomplishing them with the intent of feeling better about ourselves, sets us up for a disastrous life crisis that may not stop at only one crisis but go on and on to a resultant end of life. This book is about how to build true self esteem from self. How to rekindle that level of self esteem to that which each of us was born. We innately felt good about ourselves without the need for success. Exploring each new day was sufficient for maintaining our self esteem. When we were babies there were no "bad hair days" on our mind. This book unravels the mystery of how to feel good about yourself in the midst of disaster.
Quick Tips on How to Be More Confident and Assertive Today
Build Self Confidence for Assertive Communication
The second book of the Self Esteem Series.
This book puts a bounce in your step. As you read this book, you will actually think that Richard is in the room coaching you in overcoming the "dead-give-aways" of self confidence (unconscious habits like the Gallow's laugh, to name one of the many, that announces to the world that you have little if any confidence), developing assertiveness, and establishing a self image that's built on solid foundations!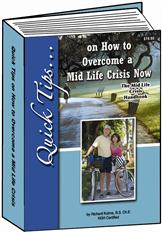 Quick Tips on How to Over Come A Life Crisis Today
The Middle Life Crisis Book
The third book in the Self Esteem Series.
A mid life crisis or for that matter any life crisis will have you question the fabric of your being. A life crisis can start at any time. It could be simply from waking up one day and realizing that your life has been wasting away. Or life crisis can happen after break up of a relationship, loss of a job, collapse of the stock market, death of a loved one, or loss of a physical skill, debilitating accident, signs of aging, change in social status, and so on. Why me? Why now? Your days and night are consumed with anguishing thoughts and even wondering why you should go on. With this book you can put your life back together and discover new purpose in life.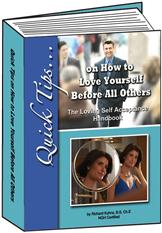 Quick Tips on How to Love Yourself Before All Others
The Loving Self Acceptance Hand Book
The fourth book of the Self Esteem Series.
This book is about getting to know the real you and to love yourself unconditionally. No, it doesn't mean that you're egotistical if you love yourself. Without self love we might end up liking the physical result and hating how emotionally deficient we are. Or, we have it together emotionally but have the body of a walrus (as we judge it) and are unhappy about our physical being. For most of us, this occupies our entire life-time with therapy, counseling, diets, plastic surgery... and we never even consider the spiritual side. The end results--we never live up to our own expectations, we always judge ourselves, and, we often hate a large part of ourselves.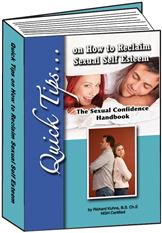 Quick Tips on How to Reclaim Your Sexual Self Esteem
The Sexual Confidence Hand Book
Is length and width necessary for a satisfying sexual relationship? Should I feel less about my self because I masturbate? Can I have a high level of self esteem if I'm homosexual? How can a person who cheats feel good about him/her self? I have trouble getting an erection, how can I keep that from affecting my attitude about myself?
Answers to these questions showing you how you can have a high level of self esteem plus other issues such as premarital sex, impotence, and so on that can question one's self esteem are handled.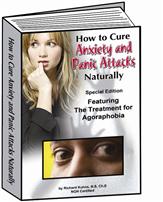 How To Cure Anxiety and Panic Attacks Naturally
Special Edition Featuring The Treatment for Agoraphobia

"Learn to relax" is not great advice, but unfortunately it's the advice you'll often get. In fact I find many panic suffers go into a panic state when they attempt deep breathing exercises or try to relax. Strangely enough, panic anxiety attack, and agoraphobia are all diseases of ignorance. Your personality traits and diet often determines that you react with anxiety to stress—including free floating anxiety. With the easy to understand approach using an external focus as opposed to internal focus (as in relaxation techniques) you make a minor shift in your behaviors—those that make your personality—such that you'll discover that you can reprogram you subconscious to leave out the flight reaction and soon be in a position to remember that anxiety used to be a problem but forget what it felt like.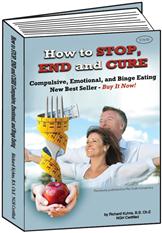 How To Stop, End, and Cure Compulsive, Emotional, and Binge Eating

Part I for conquering habitual eating, Part II for handling Emotional Eating, and Part III for mastery of self defeating eating. All three parts available in paper back as How to Stop, End, and Cure Compulsive, Emotional and Binge Eating.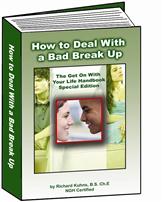 How to Deal With a Bad Break Up
The Get on With Your life Handbook Special Edition
"Why me, why now? I thought every thing was going well," are typical thoughts running through your mind. Rejection from a break up can leave you feeling like there's a bottomless pit in your stomach. It seems like you'll never be happy again. Life is fraught with self doubts and second guessing yourself—maybe it you would have so and so. Maybe you could get a second chance.

Everything you need to know about how to put a floor where that bottomless pit was, get on with your life, and be happy again.
How and Where to Meet Someone New and Special Now—The Meet a Mate Handbook
Being single has always been a challenge. Today even more so. Just think not too long ago cell phones were a thing of the future. Today everyone has one. Keeping up with technology is fun for some and a frustrating challenge for others. But it all boils down to finding someone with whom you have chemistry. Yet, there are 365 days a year and how many of them are you alone? Too many? Where do you meet someone with whom to share your life?
How about we just start with finding someone with whom you can share a few dates or an enjoyable afternoon in the park?
For those who like to meet someone in person, you'll find the tips of where and when to meet that person and how to get their attention. For those who want to stop wasting time on the internet sites, you'll find down to earth tips on how to master internet dating:
First how to ditch psychological baggage that can "shoot your own foot" in a relationship.
How to stop wasting time and write a profile that gets results.
The value of photos and how to post one that draws the opposite sex to you.
Typical traps you can fall into which cost you time and aggravation.
And then when you connect, tips on writing intriguing emails. 
Intriguing dating ideas for your first dates.
A method to identify potentially defensive personalities that you want to avoid.
Questions about intimacy and your options.
An intimate option to expensive restaurants with even better food.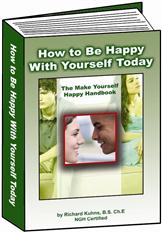 How to Be Happy With Yourself Today—The Make Yourself Happy Handbook

Each of us are like a coin—there are two sides. On one side is "happiness" and on the other side is "depression." In spite of our best attempts to be happy, life provides many disappointments which shift us to the depression side of our coin. The secret to being happy is to be able to take charge of our own lives and shift ourselves at will to the happy side of our coin.